The only tool you need
for your next
recruiting campaign.
Harness the power of your social network to find your next team member.
Find like-minded people driven by a passion for doing for your posting.
Start your social recruitment campaign in only 10 minutes.
Some of the companies using Wantedly
More than just posting your job on Twitter.
We help you harness the power of your team's social reach, without any extra work.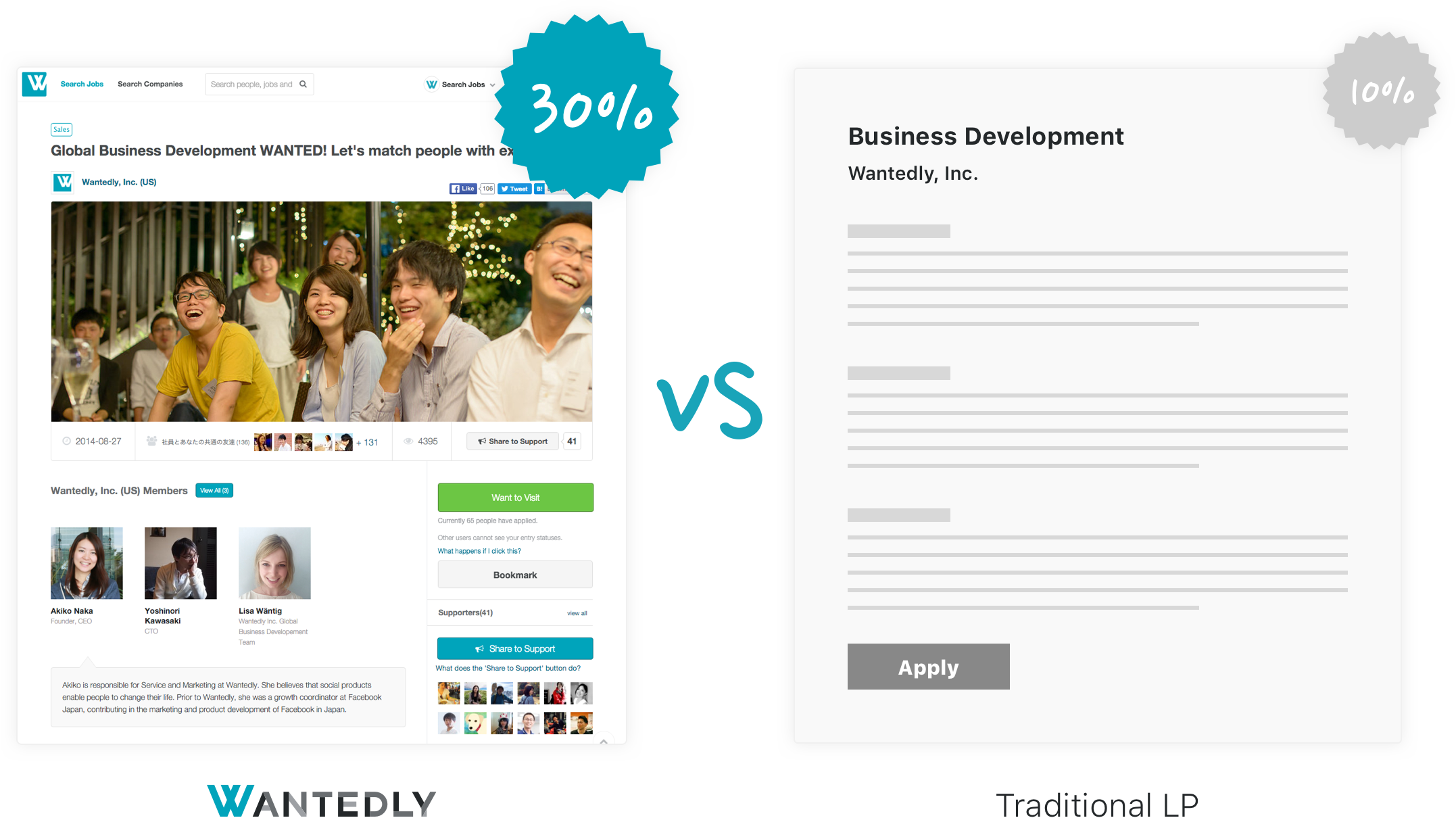 Responsive Landing Page in just 10 min.
Easy and fast, a dashboard your whole team can use instantly without upgrading.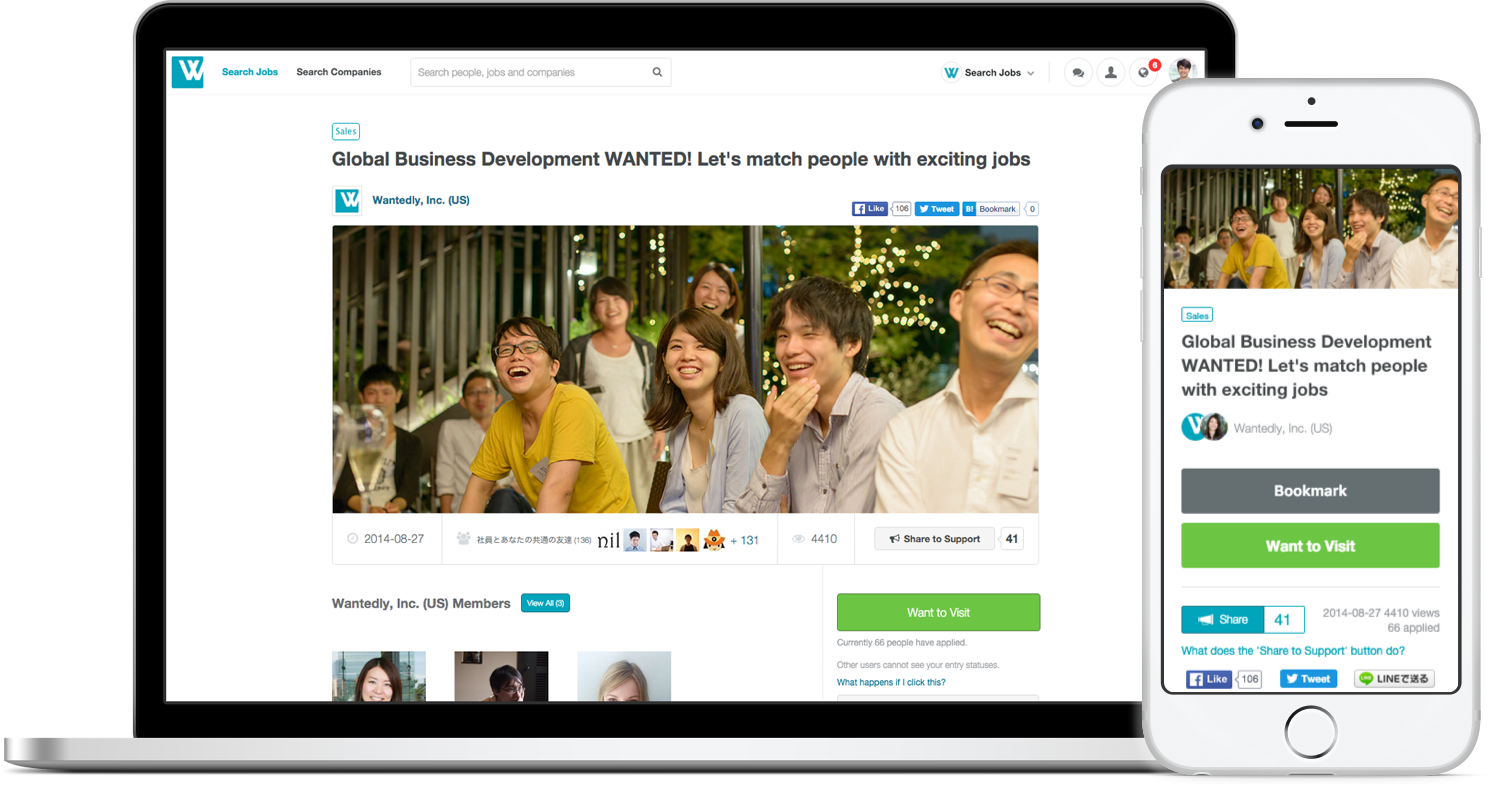 I can clearly say that the quality of potential candidates is very different from non-social recruiting methods.
Yamato Sasagawa
Direktor at PT Media Makmur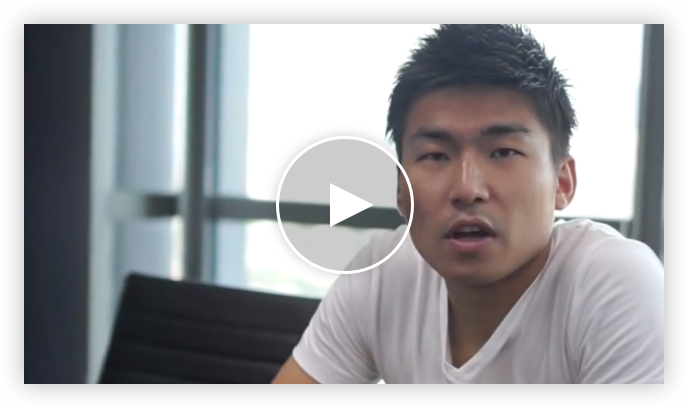 FAQ
Why do I have to use my personal Facebook account?

We harness the power of your team's "social graph" in order to find and match your posting with like-minded individuals. We know from research that most people are "Facebook friends" with the same type of people they associate with in real life.

Why can't I post the salary for the job?

The "Wantedly Way" of job searching means connecting talented people with their passions. While our job-searchers are looking for a good salary, they are highly driven by being part of a team that fits their same goals, ideals and characters.
What kinds of people are already using Wantedly to find jobs?

We have over 700,000 active users monthly who are mostly between 20~30 years old.

What can I do with the free plan?

The free plan has absolutely no limitations except for one; you can only see the first 10 applicants for any job posting you create.
How long does the free plan last?

Forever or until the end of time, whichever one comes first. No baloney, jive, or kidding. We will never switch you over to a fee-based plan automatically either; we don't even take a credit card when you sign up!

What about incentive fees or "head-hunter" commissions?

We aren't a traditional recruiting agency, so we don't have the traditional fee structure. No commissions, incentive fees, or salary percentages here!
Start Your Free Trial Now!
※ You will not automatically be upgraded to a paid plan.